"I don't get motivated by hope. And I'm not that hopeful. You're not talking to a hopeful person. Hope doesn't actually motivate me…but fear gets me motivated. Anger, unfortunately, gets me motivated, and my grandson gets me motivated – because I'm more afraid for him than I am hopeful for him."
In this podcast I talk with Geoff Smith, CEO and President of EllisDon. In the world of Climate Change mitigation, Geoff Smith is probably best known for his leadership of the Carbon Impact Initiative – A Building Industry-Led Action Plan in Support of Canada's International Climate Change Commitments. 
In our conversation, Geoff and I talk about how climate change and carbon emissions came to be such an important concern for Geoff, and what EllisDon is trying to do about it; what the construction industry can do to make a difference in moving the needle on carbon emissions; the big efforts EllisDon is making to tackle the opportunities and challenges associated with Mass Timber given its potential to significantly reduce embodied carbon and lock up carbon; and what will be required to actually meet our commitments to the Paris agreement and reduce carbon emissions before it is too late. We also talk about losing hope and what we need to do about it.
Background
I have known and worked with Geoff for many years and have come to admire him as both one of the Construction Industry's most respected leaders, but also as a great guy. He is one of those rare people, who is successful, intelligent, and incredibly competent, while also having a real sense of humility, and a wonderful sense of humour. These are the qualities that have made him such an effective industry leader and innovator and why I wanted to interview him for this podcast. 
Geoff is the President & Chief Executive Officer of EllisDon, an employee-owned, $5 billion-a-year construction services and technology company. After earning a law degree from the University of Toronto, Geoff was admitted to the Ontario Bar in 1981. He joined EllisDon in 1983, gaining experience across various management positions, including Field Operations, Legal-and-Labour Relations, and Executive Leadership.

Geoff Smith Speaking at EllisDon Annual General Meeting, 2021
After being named President and CEO in 1996, Geoff set about reinventing EllisDon as a 'Cradle to Grave' services provider, including the creation of Capital Services, Facilities Management, and Sustainable Building Divisions. More recently, EllisDon has created pioneering initiatives in Energy Management, Smart Buildings, Software and Data Analytics, and Modular construction. 
In addition to leading EllisDon, Geoff has also played a significant role in the civic life of Toronto, Ontario, and Canada. He has served as a Curriculum Advisor to Ryerson University, on the Board of Halton Health Services, and chaired the Technology-in-the-City Campaign for George Brown College. Geoff was also the past Chair of the Ontario Liberal Fund and is a founding member and Chair of the Ontario Global 100 Board, an initiative to enable Canada's fastest growing companies to become exporters to the world.  Geoff co-Chairs the Unity for Autism Golf Event, is on the Board of Directors for the Business Council of Canada and is on the National Council of the CD Howe Institute. 
Geoff told me that he views EllisDon as a "values-based proposition above all else", and that "Trust, Complete Openness, Mutual Accountability, and Entrepreneurial Enthusiasm serve as the company's foundation, wherever it goes, and whatever it does."   He believes that in the end, "being the nice contractor" is EllisDon's most powerful strategic advantage.  And indeed, these core values have helped earn EllisDon consistent accolades, including Aon Hewitt's 50 Best Employers in Canada, Deloitte's Canada's 50 Best Managed Companies, Canada's Top 100 Employers, and Waterstone Human Capital's Canada's 10 Most Admired Corporate Cultures. 
Geoff has also collected some very impressive personal accolades. He was the recipient of the Ontario General Contractors Association's Jock Tindale Award for Integrity in 2011, the Ernst &Young Canadian Entrepreneur of the Year award in 2013, and the Donald P. Giffin, Sr. Construction Industry Achievement Award presented by the Toronto Construction Association in 2020.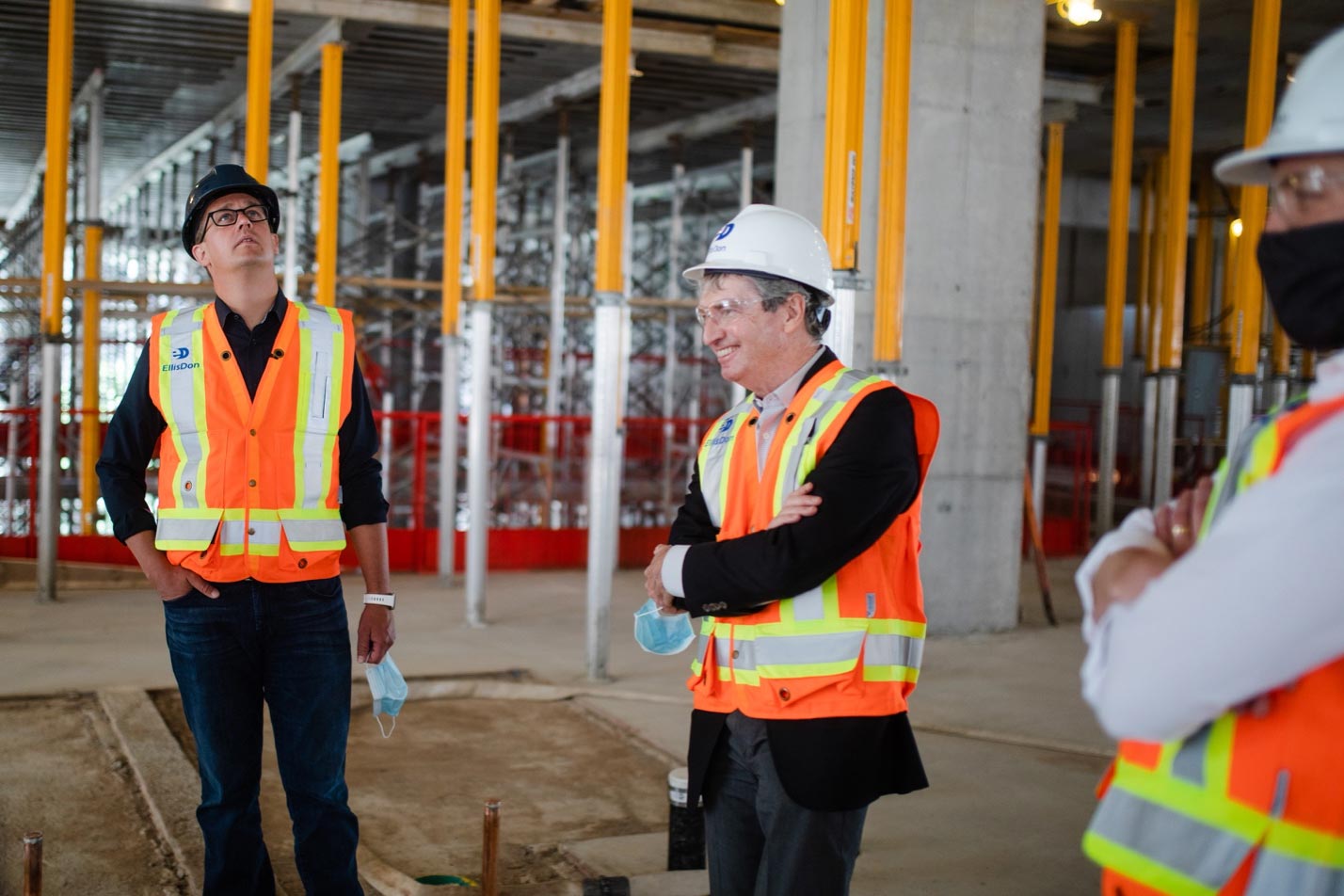 Geoff Smith at Site Visit to Michael Garron Hospital, 2021
Where Geoff thinks the building and infrastructure sector has the biggest potential to make a difference in reducing greenhouse gases
We have to start building, not just one of's as example, but across the board, carbon-neutral buildings, carbon-consuming buildings. Let's not build anymore polluting buildings. As a subset of that, where's the biggest potential? Steel, concrete, the materials. We've got to do more 3D printing, more, additive manufacturing – they call it now. Big problem, therefore big opportunities in the materials, and then just construction methods. The construction supply chain with 40 subs on every site operating with their own independent supply chain is really not helpful for reducing carbon. So, we've got to get at that and we've got to tackle energy conservation, how we generate energy across the board.
Those are the four biggest areas. Nothing easy about any of that. I'd like to give you a big rosy, "Oh, we're gonna do this too well, make a big difference." There's a whole lot of science. A whole lot of slogging. Just a whole lot of getting at it. It won't happen tomorrow, but it has to start to happen yesterday and with some real urgency.
What Geoff thinks are the best levers to pull to make this happen
One of the big levers to help is, I think, governments need to weigh in more forcefully than they have around regulations and laws, and telling us, and telling our clients, specifically, "You will change what you are building and how you are building and you will do it in this way, by this date, or you will not be building."
"I don't see it happening fast enough if you leave it to the market…"
I don't see it happening fast enough if you leave it to the market and for everybody to get the picture that we really have to do this. How did we get rid of acid rain? Like, I, I know I'm the old person in the room, but if you remember the '70s, they outlawed it.
And then the second thing, and I'm sorry 'cause I know everybody says this, but government funding is going to be required to help pay the green premium. We gotta pay it. Theburden is going to have to be spread with effective incentives. But more importantly, the laws. Do it by this date (like seat belts.) Do it by this date, or you will not be doing anything. I mean, you'll find it will change pretty quick.
What advice Geoff would give to the new Canadian Minister of the Environment, Steven Guilbeault, about what the Federal Government should be doing to help us make this happen
I would say, "End your singular focus on oil and gas." You know, we all kind of get oil and gas, and everybody's made it the big 'boogeyman' and we're not gonna get off oil and gas tomorrow, and everybody knows it. But the Federal government, and I think Minister Guilbeault to a certain extent, if I may, is very focused on oil and gas. They're 30% of the problem maybe. They're no bigger than we are [Infrastructure and Construction]. So, come and talk to us. And then work with us.
They [the Federal Government] need to broaden their perspective and then they need to come and say, "What can we do together?" We've got lots of ideas. And then I'd say, "You give us the legislation. We'll work within it."
What Geoff thinks about how we can adapt to the impacts of climate change
So, there's two or three things and, and there will have to be a balance, in my view, a balance and accommodation. First of all, build protections. It will be required. You're gonna have to build stronger buildings. You're gonna have to build retaining walls. You're gonna have to build, frankly, the structures and the heavy structures that will keep, to a certain extent, the impact of climate change at bay. The severe storms, the big water coming up the rising tides. Design, you [architects] have a big part to play in this. But there's also a big decision that we have to make as a society now. 
You're not going to be able to protect every town on every coastline. You're not, you're just simply not, we've seen it recently – the severe climate events on the west coast recently. Only so much you can build so fast. I think we're gonna have to think about how much we adapt. How much do we have to face the fact that the water is rising? How much do we have to face the fact that our geography will to a certain extent change? And there's nothing we can do to stop it, regardless of what we do to address climate change. So that's about adaptation, and I think those conversations have to start happening -right now! We need to start making the decisions; we need to start budgeting for it; we need to start recognizing how much it's going to cost and where we're going to spend the money; and how much.
What does Geoff think are the biggest challenges and barriers to coming to grips with how we meet the realities of climate change?
The biggest challenge seems to me, I think that human beings are motivated primarily and most effectively by fear. And I think that unless we see the danger and can touch it, it doesn't have an impact on us and, frankly, we can't see yet, starting to, come to that in a second, it's not really wrecking our lives right now climate change, so we're not afraid. I think that's a big barrier.
What does Geoff think are some of the key opportunities to deal with the fast-emerging challenges and impacts of climate change?
Building retrofits, we are not going to solve this problem in our industry when tens of thousands of buildings continue to spew carbon. But this is an opportunity. We've been working on this solution from a commercial economic standpoint. In other words, tear down the skin on the building, put all new systems in, raise your rent, and you get a return on investment and you save the world.
We probably need some government help just to get it going because and we need the pension funds, frankly. Hope they listen to this podcast and don't get too mad at me. We need them to start investing. But (A), we won't solve the problem without massive building retrofits and (B), the economic case can be made and has been demonstrated already. So there's an opportunity.
And the last one I'd say to you, in terms of opportunities, is a little more dire. I actually think, and I hope nobody gets offended by this, if you look at the tragedies in British Columbia recently and then, of course, California with the fires, and then, of course, everywhere. I think this is doing two things. It's making that fear tangible. You said burning up, like actually burning up as opposed to metaphorically burning up the planet. People say, "Oh, shit." This is serious and it's happening now. And the second thing it does is we can say, "Well, now that we've seen what actually happens instead of what the model tells us, uh, okay. Well, we gotta do this! We gotta do that. We gotta do that!" It'll help us solve the problem.
I actually think, in a negative way, the immediacy and the extent of these climate events – let's call them extreme events that we've seen – will help us solve the problem and understand the need to solve the problem. I think we've gotta treat them as an opportunity 'cause, to not do so would be a big mistake.
Is Geoff Hopeful about the future?
I don't get motivated by hope. And I'm not that hopeful. You're not talking to a hopeful person. Hope doesn't actually, I don't want to say I'm not hopeful, but fear gets me motivated. Anger, unfortunately, gets me motivated, and my grandson gets me motivated – because I'm more afraid for him than I am hopeful for him.
 So I'm sorry, you're talking to the wrong guy here. I love the optimist. The world needs optimists, but we wouldn't get anywhere. I'm not one of them. I'll be hopeful when everybody else is terrified.
Advice Geoff had for listeners
I would say to people, "Listen, if you're in an industry, raise your voice. If you're in the world, raise your voice. But also never forget that the solution is largely micro." "And you've gotta look at your individual climate footprint and you've gotta lead the way here." We need more courageous leaders at the micro level.
What Geoff Asked of Listeners
I just think I'd ask everybody to get louder. I don't think they're hearing us yet. It needs to be a responsible, urgent conversation. But until people demand specifics, they're gonna get more virtue signaling. Get louder!
Geoff's Book Recommendation:
How You Can Connect With Geoff
Please Support this Podcast:
The Twenty First Century Imperative podcast is ad-free and relies entirely on user support. If you find it valuable, please consider supporting us by becoming a patron at our TFCI Patreon Page. And we now have a new TFCI Online-shop, with all the proceeds going to cover our production costs! And it has some great products for you! We have organic, fair-trade t-shirts and hoodies, as well as non-toxic BPA-free coffee containers, with great graphics! So, if you like the podcast, please think about helping us out by buying a t-shirt, hoodie or mug for you (and one for each of your friends!)