"Instead of trying to navigate the change a few percentage points at a time, I try and recognize – those few percentage points don't matter if the ship is going in the other direction tomorrow."
Background
This episode is the second instalment of our new series of Twenty First Century Cleantech episodes.
In these Cleantech episodes, Connor is bringing stories focused on clean technologies through conversations with business leaders, entrepreneurs, researchers, and anyone who is leading the energy transition. 
Today we're talking about the world of geothermal heating and cooling, and why it's going to be one of the fastest growing industries in the green building space over the next few decades.
The context for this conversation is that in our Clean Tech episodes we're trying to spotlight companies, and industry leaders, who are or could have an outsized impact on decarbonizing the building sector. When we look at jurisdictions like Ontario, that have a relatively clean electrical grid, most of the greenhouse gas emissions associated with buildings therefore come from space heating.
If we dig into the numbers, according to a Carbon Emissions Inventory for the Greater Toronto Area produced by the Atmospheric Fund, buildings are the largest source of ghg emissions in the GTA, accounting for just under 43% of all recorded emissions. Transportation is the number 2 source accounting for 34% and industrial uses are in third place at 19% of emissions.
In other words, when people think about renewable energy – yes think about PV panels and wind turbines – but also, and almost more importantly, we should be thinking about heat pumps like geothermal systems that can electrify and therefore decarbonize our building heating systems. 
Matt Tokarik – Bio
Matt is the President of Subterra Renewables, a renewable energy developer who designs, builds, owns, and operates geothermal heating and cooling systems across North America, with the goal of significantly reducing greenhouse gas emissions and ultimately reaching Net-Zero building operation.
He has previous experience working as a Building Energy Consultant developing whole building energy models, conducting energy audits, and creating carbon reduction strategies for new and existing buildings and building portfolios.
He is also a Sessional Instructor at Ryerson University, where he leads courses and seminars in sustainability, building science, and energy modeling.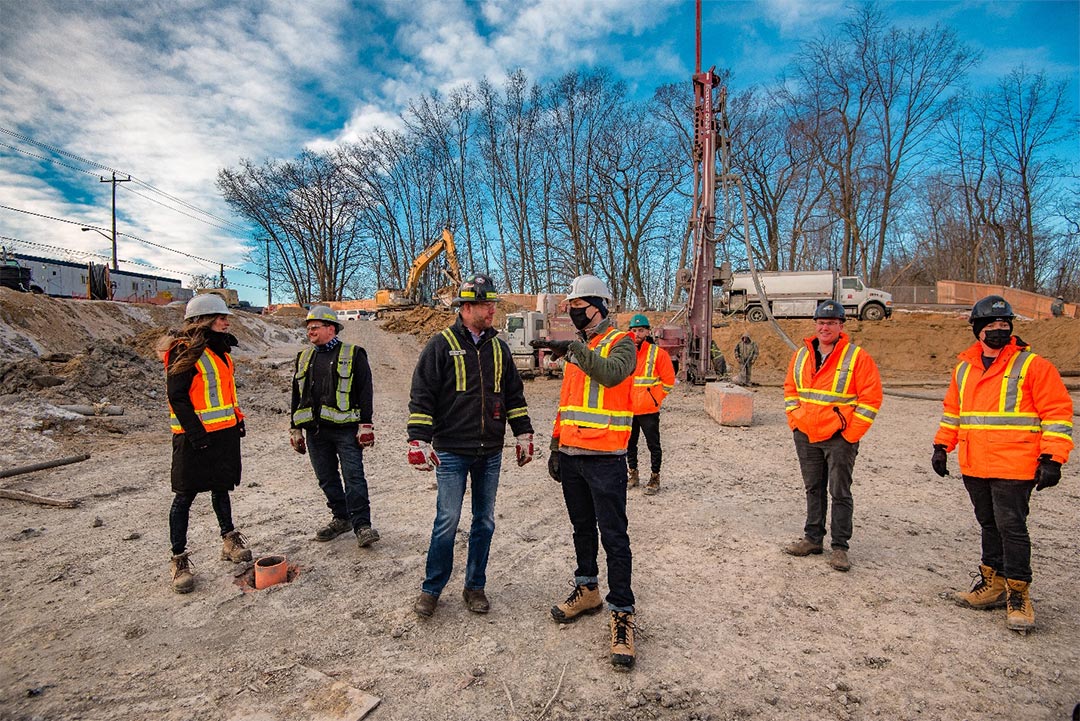 Matt Explains Subterra's Business Model
Broadly speaking geothermal systems tend to be more capital intensive than a conventional hydronic system – a boiler and chiller – but cheaper to operate.
We might be one and a half to two times more expensive than the competing heating and cooling plant. But then there ends up being significant savings over the life cycle from things like water use reductions, service maintenance, and reserving. Because you've got far fewer moving pieces in the system, you end up having a set of equipment that's much cheaper to operate over a life cycle. 
If you are a condominium developer, you're typically going to want to build the system, sell units, and recover your investment within the first few years. So that's where energy-as-a-service business model can come in and support that. Because now the developer gets the benefit of the green energy without paying the upfront cost.
There's some more benefit on the rooftop now as well – instead of having all that big equipment that you would traditionally have in your mechanical penthouse, you've cut that space usually by about half. There's more room for rooftop amenity, or in some cases you can actually put more saleable area in your building. 
For us (Subterra), we're solving that problem of the upfront capital investment for the developer, and we're sticking around for the long term. We're making the investment and retain ownership of the thermal energy asset to recover our return over the term of the agreement. 
The end user (the tenant) also usually realizes a small savings. Particularly as we start thinking about future energy prices and the carbon tax that's increasing at a rapid rate,  they're going to have some really good hedging against those future prices.
Why is Interest in Geothermal Exploding Today?
Geothermal systems are two things. One, they are extremely energy efficient. A heat pump system is ultra efficient, typically in the range of 400% or 500% efficient, as opposed to your 95% efficiency at most for fossil-fuel based combustion systems.
The other important characteristic of geothermal is that it fuel switches. Instead of burning fossil fuels – which is natural gas typically here Canada – now we are taking electricity from the grid and using that to drive this heating and cooling cycle.
Geothermal has been coming into the market largely as a response to regulatory and policy initiatives. Places like Toronto now have highly advanced and stringent policy requirement for new building performance.
The Toronto Green Standard is ratcheting up again to version 4 in 2022, and what the smart consultants are telling you is that you need to either have a really robust envelope, which usually means triple glazed windows, or are you going to have to have a heat pump system. And envelopes are expensive.
What Skills Set Is Required to Be a Successful Business Leader in This Industry?

First, you should have a foundational skillset, like accounting or sales – it doesn't necessarily need to be highly academic. You need some sort of foundation, I believe, to build the rest of your career on. My foundational skillset was very technical – math, physics, engineering.
But I think my view of the world, as I've been in practice, has really shifted in scale. I spent a lot of time cutting my teeth in the weeds, talking about the nuts and bolts of energy efficiency one percentage point at a time.
Now I've shifted out from the tress to look at the forest – I try and take a 30,000 foot view of the problem. I look for levers that will have very large impact on driving the direction of the market, which will ultimately trickled down into the nitty-gritty engineering work.
Instead of trying to navigate the change a few percentage points at a time, I try and recognize – those few percentage points don't matter if the ship is going in the other direction tomorrow.
Books that Matt is reading lately:
Vivid Vision: A Remarkable Tool For Aligning Your Business Around a Shared Vision of the Future
Americana: A 400-Year History of American Capitalism
Bhu Srinivasan
Principles
Ray Dalio
Matt's Social
Please Support this Podcast:
The Twenty First Century Imperative podcast is ad-free and relies entirely on user support. If you find it valuable, please consider supporting us by becoming a patron at our TFCI Patreon Page. And we now have a new TFCI Online-shop, with all the proceeds going to cover our production costs! And it has some great products for you! We have organic, fair-trade t-shirts and hoodies, as well as non-toxic BPA-free coffee containers, with great graphics! So, if you like the podcast, please think about helping us out by buying a t-shirt, hoodie or mug for you (and one for each of your friends!)