"You need to have a mission in life, and you have to relentlessly pursue it!"
Sayjel Vijay Patel is an MIT-trained architect, technologist and the Co-Founder and Chief Technology Officer at Digital Blue Foam. 
Sayjel's past work bridges across the scales of software, materials, and cities, often mashing-up industrial technologies in new and provocative collaborations; from a Bartending System using Kuka Robots for Google I/O;  to developing an award-winning Mars 3D printing concept for NASA,  to designing a fleet of emotion-sensing robots for the Shenzhen Biennale in 2019. 
Background
Sayjel was a Founding Professor at the Dubai Institute of Design and Innovation (the DIDI), the first Design University to open in the UAE, where he pioneered a new format of combinatorial design education – where students are trained in 2 different design disciplines simultaneously. 
Before joining the DIDI, Sayjel was a Researcher with the SUTD Digital Design and Manufacturing and Design Center in Singapore, where he invented an award-winning software for multi-material 3D printing. Since 2013, Sayjel has coordinated "CodeKitchen", an ongoing series of peer-to-peer learning labs and workshops to bridge emerging technology and design practices.
Today, Sayjel is concentrating 100% of his time as the co-founder, and CTO of Digital Blue Foam – an architectural software start-up. Digital Blue Foam's mission is to create the algorithms, interfaces, and operating systems, to accelerate the decarbonization of the building industry. In his free time, Sayjel loves to oil paint, and spend quality time with his wife and daughter.   
In our podcast Sayjel and I talk about the importance of urban density, how two key metrics are the most important way to drive low carbon cities, and how to scale design strategies at an urban level to reduce the carbon footprint of city dwellers.  
What Architects, Engineers, and Planners Can Do To Reduce CO2 Emissions and Increase Our Resilience to Climate Change
… I think the big problem, isn't the creation of new buildings. It's how do we retrofit the five or 6 billion existing buildings in the world? I think this is where the huge potential is. And as a company, that's where we see where we're going. Like we have to right now, like look at new buildings, but the actual real potential is in retrofitting or fixing or recycling what already exists. So, I think architects can be like product designers or manufacturing experts or recycling designers. And so, I think there's a huge potential beyond what you're learning in school.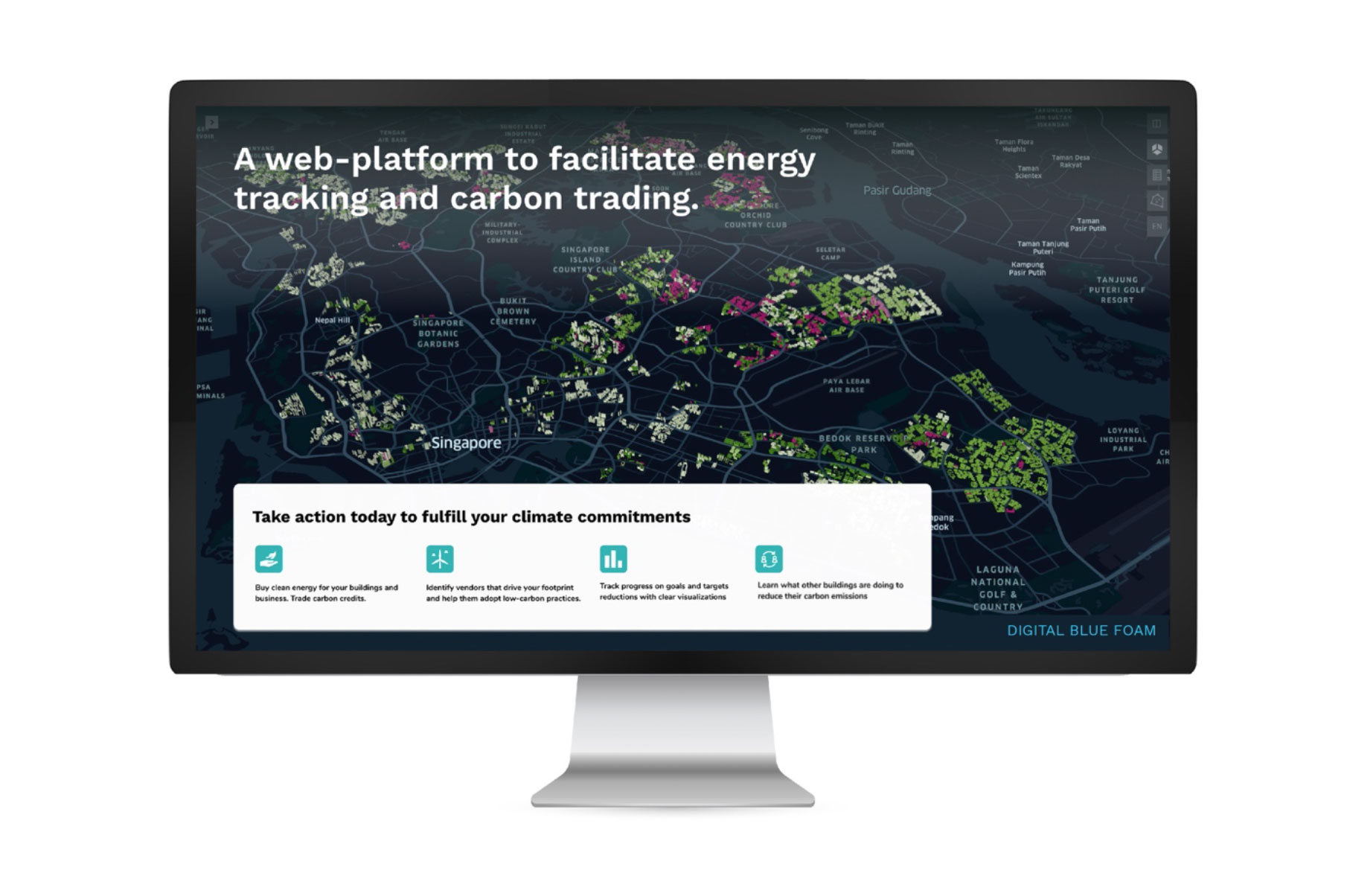 Digital Blue Foam Carbon Trading Platform
Sayjel's Thoughts on Two Key Metrics for Measuring the Sustainability of Buildings and Cities
…there are basically two things we can look at. And one is at the urban scale and the other one is at the building scale. At the building scale, we look at how can we reduce the amount of energy that's used per square metre per year – to a 100 kilowatt hours per square metre. So, if we can do that, if we can reduce energy use in buildings, then the rest can be supplied by renewables. And we can go carbon zero, which is really amazing. And, and we can quantify this. So, this is, this is very, very positive.
Then, at the urban scale…it's a "15-minute city". A 15-minute city where you look at the neighbourhood, you look at many neighbourhoods, as the kind of fundamental units of a city, and you give people who live there, all the amenities to sustain life, to sustain a joyful life within a 15-minute walking distance including parks, restaurants, place of work, schools, hospitals, nature, all of those things. And so, we're talking not just about density, but also urban diversity, which is very important. And I think a 15-minute walk, I think it's a thing that everyone can understand. It's very easy to understand the power of that. Yeah. So those are two metrics. I think there's so many metrics you could look at, but just to have two that are very clear related to decarbonize it.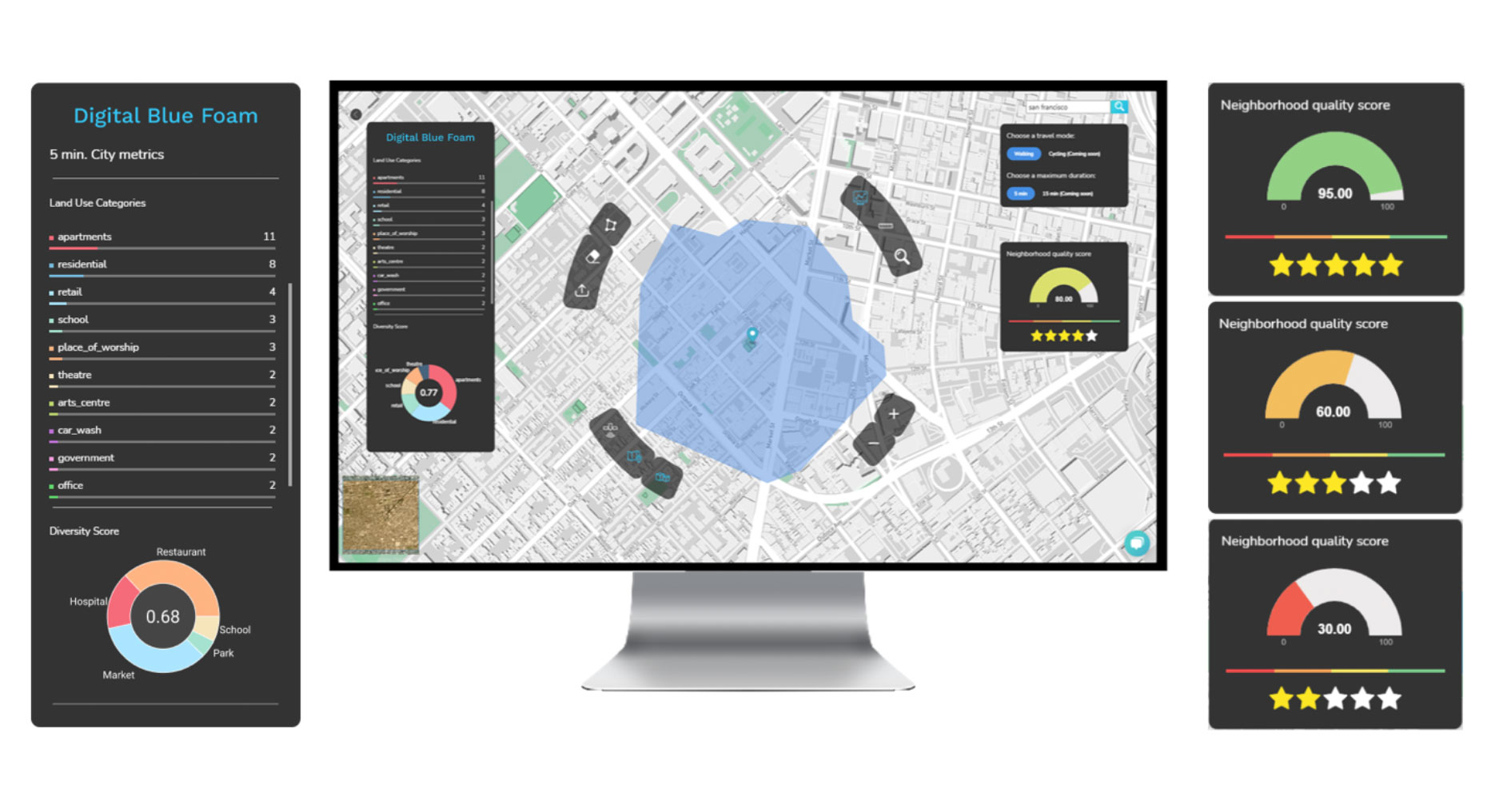 Digital Blue Foam Isochrone Neighbourhood Quality Score for a 15 Minute City
What Advice Sayjel Had for Young Designers About Tackling the Super Wicked Problem of Climate Change
I love that question. And what I would say is that students need to learn how to be entrepreneurial – just super relentless with carrying through their ideas. And also having the ability to work with people who are not necessarily from the same discipline as they are. You may feel intimidated, but just being able to be reaching out, being open, and being able to continuously learn. I was very fortunate as a grad student. I had a couple of professors that were really inspiring and, and said: "Hey, Sayjel, like the world's really tough. Like this is what you need to do. If someone gives you a sliver of an opportunity as a young person, you need to take it, you need to just like grab that thing and just not let it go. You need to make that your own." And those are the people who actually do something. If you have an opportunity and just take it for granted, you can't do anything. So, I don't know if that's a skill, but that would be my advice.
What Sayjel Thinks About The Notion Of Progress
I think that's an interesting question. My parents' generation, the way they grew up with acquiring more higher salary, more kids live in the suburbs, bigger house, four cars, two houses, three houses, and maybe progress is different. So, for me, like I'm happy living in an apartment, live in a city, don't own a car. I think I'm actually like happier. I don't have to drive. I can walk everywhere. I want, I feel very healthy. I have the job. I love it to spend a lot of time with my family because I can walk to work. I can walk home. And so maybe, maybe progress is becoming smaller or making things simpler. Now maybe progress right now is about simplifying life.
What Keeps Sayjel Going And Gives Him Hope When Things Look Dark
Okay, this is going to sound cheesy, but I think, I think everyone should have the opportunity to teach, because anytime you need inspiration, just work with students. So, I just had the amazing opportunity to be part of like a new university from day one, just inventing their curriculum. We had no idea what's going to come out of this thing. Like we had a crazy idea. We're going to teach the students how to be a fashion designer and an industrial designer at the same time, or a multimedia designer and a product designer. We have no idea what's going to come out of it. But you see in the students, they, they feel this consciousness, they feel the weight of the future and the, in their projects, it's very optimistic. They were finding solutions, finding ingenious solutions. So, I have hope. I have a lot of hope about the next generation, even though I was student not too long ago, but I do have a lot of hope of this next generation.
What Sayjel thinks is the most important innovation or policy to implement to reduce carbon emissions
It would be the carbon credit exchange. If every country, every community, every city could buy into this, we could solve a lot of the problems, but also, I think, I think what's so amazing about that concept is even if you're a polluter, you're exercising responsibility for what you've done. And if you're someone who is say, invested in renewables or reforestation, there's an economic ascent incentive there. So, I think it's just fantastic idea, but it's really going to take a huge willpower that I don't think currently exists to make something like this happen, but I think this would solve the problem.
What Sayjel Asked of Listeners
I think if they're interested in connecting with me and our company, and what we're doing, we just published two white papers about two projects. One is about the 15 minutes city, and the other is about our daylight autonomy scoring system. These are both on our website. So, if they want to learn more about that, they can check out our website and read about our work. And we would just love to hear their feedback and thoughts on this, and how we can tackle this problem more.
Sayjel's Book Recommendation:
The Art of War by Sun Tzu. From Goodreads: "Twenty-Five Hundred years ago, Sun Tzu wrote this classic book of military strategy based on Chinese warfare and military thought. Since that time, all levels of military have used the teaching on Sun Tzu to warfare and civilization have adapted these teachings for use in politics, business and everyday life. The Art of War is a book which should
How You Can Connect With Sayjel
Please Support this Podcast:
The Twenty First Century Imperative podcast is ad-free and relies entirely on user support. If you find it valuable, please consider supporting us by becoming a patron at our TFCI Patreon Page. And we now have a new TFCI Online-shop, with all the proceeds going to cover our production costs! And it has some great products for you! We have organic, fair-trade t-shirts and hoodies, as well as non-toxic BPA-free coffee containers, with great graphics! So, if you like the podcast, please think about helping us out by buying a t-shirt, hoodie or mug for you (and one for each of your friends!)