"There's no silver bullet here. There are lots of different technologies and solutions that will change the world over the next 30 years as we deal with climate change. And I would like to give listeners a sound overview of what is worth spending time on."
Connor is one of those rare individuals who likes to get deep into the weeds on analytical engineering problems, but who can also pull up to look at a problem from 30,000 feet. Which is why it's a pleasure to tell listeners that Connor will be launching a new segment on this podcast that we're calling "Twenty First Century CleanTech". He will be interviewing leading entrepreneurs, researchers, and business leaders who are breaking fresh ground on new Clean Technologies that could be important tools for helping us to transition to a zero-carbon economy. This is a project that Connor and I are very excited to be launching, and I'm thinking you will enjoy hearing from a new voice with a fresh perspective. 
You can think of this episode as a prequel to the Twenty First Century CleanTech launch, which will be a reoccurring segment. In this first episode Connor and I talk about his passion for podcasting, what he thinks are the most overlooked CleanTech stories, who he will be interviewing, and who he hopes to connect with through the podcast. We will also preview some of the upcoming interviews that Connor has lined up.
Background:
After receiving a Bachelor of Applied Science in Engineering Physics with first-class honours from Queen's University, Connor worked in the Energy Management of Queen's University for 2 years before moving to Toronto to begin his career in consulting on low-carbon urban development; first with Morrison Hershfield as a Building Energy Consultant, and more recently as an Associate with Reshape Strategies.
Connor's professional focus is on advancing district scale energy solutions to facilitate innovative, resilient, and sustainable urban development. Even though he spends his 9-to-5 mostly thinking mostly about green buildings and green cities, he also tries to stay on top of anything and everything related to decarbonization (everything from Nuclear Fusion to Carbon Sequestration).
What Connor hopes listeners will take away from his segments
What I really want to get out of the podcasts is – what are the real solutions that have real promise? That aren't just ideas on a blackboard. That are actually in the real world, actually have funding, actually are on a path to success, that are focused on decarbonization.
I hope that listeners are tuning in for a bit of their own self-interest. To gauge, if I'm 22, or if I'm 25, and I have my career ahead of me, what horse should I bet on? I think everybody is looking to have high impact, and a part of having high impact is focusing your efforts in an industry, in a technology, or in a field that will actually have an impact on society.
There's no silver bullet here. There are lots of different technologies and solutions that will change the world over the next 30 years as we deal with climate change. And I would like to give listeners a kind of overview of what is worth spending time on.
Listen, I've had people send me videos of vertical axis wind farms, articles on flower-shaped solar panels, and all this junk that I want to let people know – don't focus on that! There are real solutions out there and real people who have real plans to address climate change that are serious. I want to highlight that for people so that they can know, if they are getting into this field, where to focus their efforts.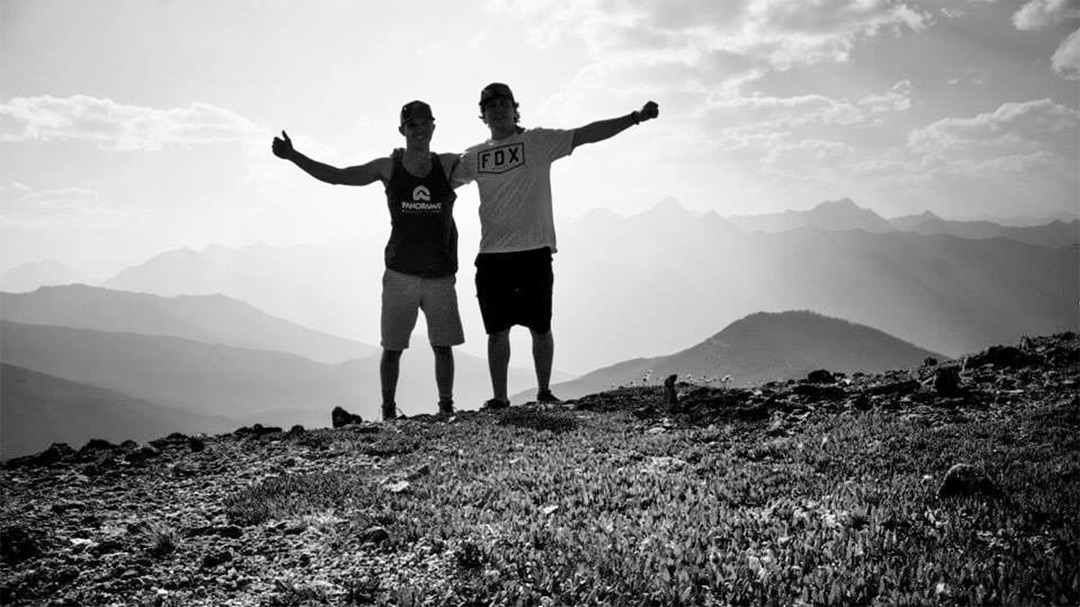 Connor is an avid hiker and outdoorsman – this is a photo at the summit of Mt Goldie in BC.
A Sample of Connor's Conversation with Mike Andrade – CEO of MorganSolar
Mike Andrade:
"We can choose to say we have the best nuclear, we have this hydroelectric bounty, and we have this oil sands bounty. 'Look at us, we're the best!'. Well so was IBM, and so was Nortel, and so was Kodak.
We need to recognise where we are in the historical bend of this story. Technology doesn't give a rat's ass for your incumbency or your previous strengths for the previous generation. Technology cares about where it's at right now."
"Canada is so heavily invested in its current energy business that just stopping investing in it isn't going to be enough to shift the landscape. You would have to disinvest in it to shift that. It's bigger than just 'hey there's a clean tech sector!' It has to be a structural thought about Canadian areas where we could compete, and Canadian-owned IP that allows us to do that. Then scale businesses that can be globally competitive, and then a big reckoning about a rotation of funding and support from our incumbency to these new industries."
What technology Connor believes needs to be accelerated to significantly reduce
CO

2 emissions and address climate change

When I think of decarbonization, I think of the high priority categories like power and utilities, buildings, automotive, industry, and agriculture. We need new technologies, or we need to accelerate existing technologies, in each of these sectors. So, there is no silver bullet here.

But I think one technology that is kind of cross-sectoral – that we know we need to develop and that we have no modelling scenario that exists to get to net zero without – is carbon capture. Don't get me wrong, this is a very early-stage technology. There are lots of promising companies out there (hopefully we can get some on the podcast on the future). I think if I had to choose one important technology to pay attention to I would choose carbon capture, but that's not to take away from the fact that we really need to be innovating on a lot of different fronts. More importantly we need to take technologies that already exist and we need to implement – and we need to get it done quickly because 2050 is coming up very fast.
What Connor Would Publish in the Sunday New York Times
Especially in my stage in my career I'm still figuring out where I want to fit in to the industry. Where my strengths can be most utilised. I'm trying to figure out where I can have the biggest impact, quite frankly.
I think there are a lot of people out there who are trying to figure that out as well. This is partly what I'm hoping to elicit out of the conversations that I'll be highlighting on the podcast – I'm hoping to interview guests in part to understand how they got to the place that they are now. And so maybe one thing I might put out there (this is something that I think about quite often on my own), is:
"Find where your strengths meet the world's needs."
I can't tell you who said the quote, but certainly somebody smarter than I am.
I think that is part of what I'm trying to do with this podcast. I'm trying to explore and understand who to look to as leaders in the Cleantech industry, and I'm trying to understand how my strengths meet the world's needs.
Connor's Podcast Recommendations
The Interchange

hosted by Stephen Lacey and Shayle Kann




The Energy Gang

with Stephen Lacey, Katherine Hamilton, and Jigar Shah
How You Can Connect with Connor
Please Support this Podcast:
The Twenty First Century Imperative podcast is ad-free and relies entirely on user support. If you find it valuable, please consider supporting us by becoming a patron at our TFCI Patreon Page. And we now have a new TFCI Online-shop, with all the proceeds going to cover our production costs! And it has some great products for you! We have organic, fair-trade t-shirts and hoodies, as well as non-toxic BPA-free coffee containers, with great graphics! So, if you like the podcast, please think about helping us out by buying a t-shirt, hoodie or mug for you (and one for each of your friends!)