"How do we tackle any major issue?… it's a result of taking action together. Information pollution paralyzes our ability to do that. If we can't focus, we can't spot the problem clearly; if we can't agree on basic reality, we can't agree what to act on together."
This is a slightly different kind of podcast. Typically I interview guests who are in some way making a difference through their efforts to deal with the causes or effects of climate change and other environment-related challenges. This podcast is no different, but the approach is very different: In today's podcast, I interview Mario Vasilescu about "information pollution."
"What does "information pollution" have to do with climate change and the Twenty First Century Imperative?"   Well, as you will hear in this episode, Mario argues that if we are going to deal with climate change, we first need to be able to agree on reality.  And given the ever increasing difficulty of internet "information pollution," that is becoming ever-more harder to do. 
So in this podcast Mario and I talk about "information pollution", what it is,   why we need to deal with it,   and how we can deal with it, in order to have more effective conversations about how to meet the challenges of the Twenty First Century Imperative.
Background:
Mario is a robotics engineer turned humane technologist and media ecologist.  He describes himself as "obsessed with rethinking how we measure and value attention", and writes and speaks on the subject where it intersects with the future of work, media, and education. He is now putting his thinking into practice with his innovative, and award-winning company and social media platform, Readocracy.com, where he is both CEO and CPO.  Readocracy rewards and recognizes users for being well-informed, and helps users track and improve their content consumption.   As Mario says: "Readocracy is like a Fitbit to track your information diet."
Mario graduated from Ontario Tech (previously known as the University of Ontario Institute of Technology) in 2012 majoring in Mechatronics Mechanical Engineering with a minor in Business Management. During his final year he won two national competitions in social media innovation  and the future of work, which landed him a role at the think tank of a multinational HR and change-management consulting firm based out of Paris, France, where he continued digging into these subjects to map emerging trends related to the role of different generations and technology at work. 
Mario has led digital projects for organizations at the national level in both Canada and France, and has spoken about emerging trends at leading media conferences, as well as directly to the leadership teams of some of the world's largest media organizations.
When he isn't working on Readocracy, you can find him enthusiastically cooking or eating, playing or watching basketball or hockey, writing, making art, and almost always listening to one of his many themed playlists.
What is Internet Information Pollution?
"Information pollution is information that is essentially noise. You can make sense of it, but how does it actually help us? Or is it just a massive distraction? It's the difference between quality and quantity. Online today, the sheer amount of celebrity gossip tablets online; the sheer amount clickbait and misinformation, it tells the tale. That's pollution because we have a finite amount of attention to give to information, and when that pool of information becomes muddied, it pollutes our focus and thinking in turn… So that pollution matters. It's upstream of our ability to solve any real world challenges coherently, together. 
Tremendous challenges, like climate change, require extremely focused and clear coordination to tackle them. Information pollution blocks our ability to focus, and our ability to agree on basic facts. It stalls action."

Mario's Readocracy profile page. (Photo from Readocracy)
What Advice Mario Had For Listeners About What They Can Do To Be Part Of Reducing Information Pollution:
Ultimately, if there's one thing I would advise and ask it would be to make an effort to become more information mindful. I would assume most of your listeners have some sort of interest in their physical and food diets. I would ask them to start taking how they feed their minds just as seriously. This post helps make the concept clear. Just like your physical diet affects your physiology directly, your mental diet affects your psychology. It changes how you see and feel the world. You are what you eat, you are what you read.
And I would also suggest being more intentional with your information diet. Have you ever thought,  "where am I actually getting most of my information?" And in the same way, somebody would say, you know, write down the number of calories they have with a meal, the portion size, all that kind of stuff. How are you choosing to nourish your mind, which shapes your perspective and emotions?
What Mario Would Publish In the Sunday New York Times If He Had A Full-Page Spread At His Disposal: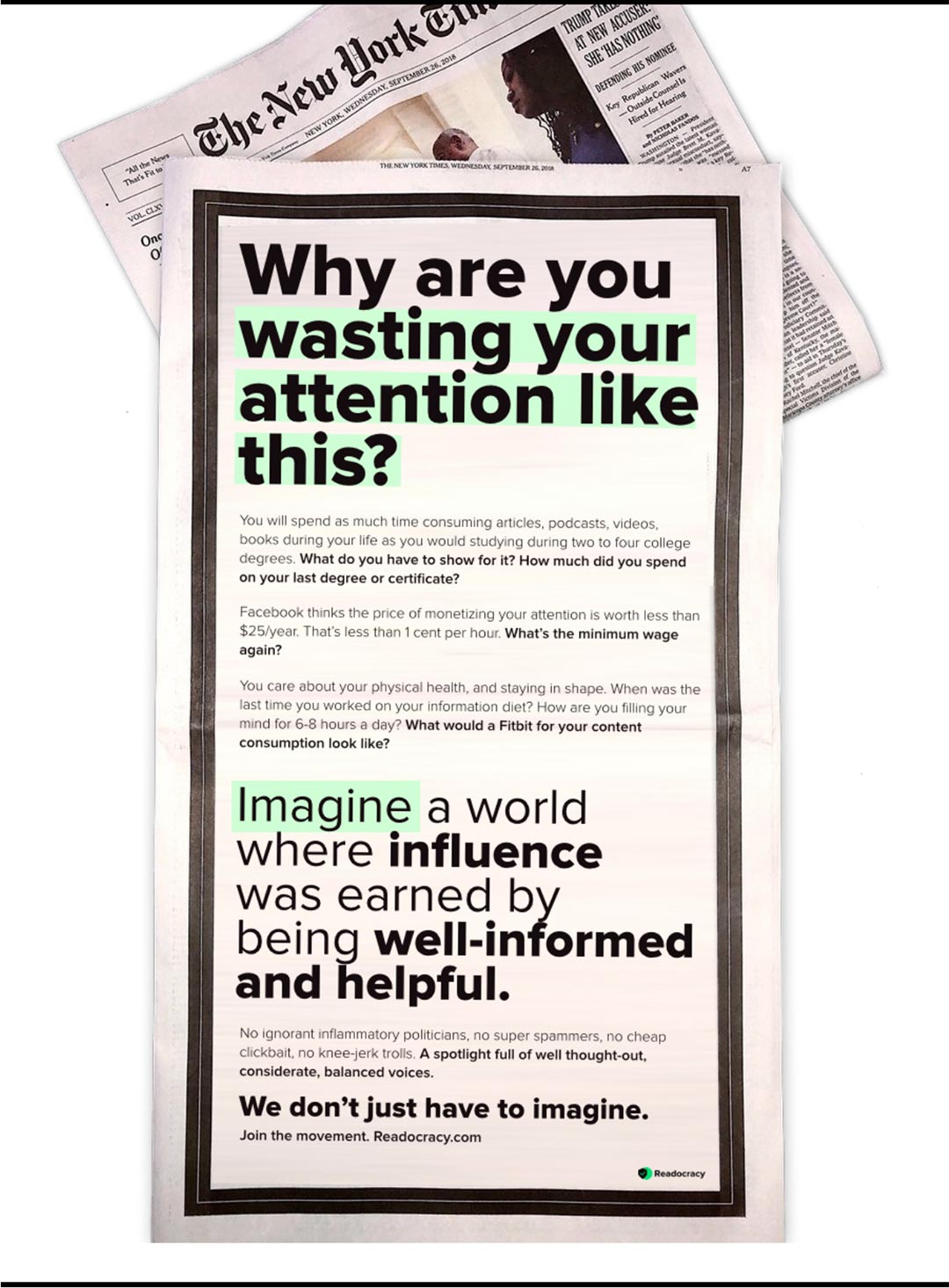 What Mario Asked of Listeners:
Check out Readocracy and if you want to  join us in our movement, and if not that, if you could read our blog where we talk about all these things in depth — and pass it on, so that we can create a society that's a bit more information-mindful. To get on the right track, so we can actually have a chance to solve the big problems facing us. That's what I'd ask:  if you can, get involved with Readocracy.
Mario's Book Recommendations:
The Attention Merchants: The Epic Scramble to Get Inside Our Heads

, by Tim Wu. Mario notes: "Tim Wu…

talks about the history, and now the modern state, of the people who transact in your attention. And I think the point I always like coming back to is: this idea of attention multipliers.

Amusing Ourselves to Death: Public Discourse in the Age of Show Business

, by Neil Postman.

Mario notes: "The book I most often recommend is Neil Postman's Amusing Ourselves to Death." One of the most compelling forewords you'll ever read: "…Huxley remarked in brave new world revisited, the civil libertarians and rationalists who are ever on the alert to oppose tyranny, failed to take into account man's almost infinite appetite for distractions. In 1984 Huxley added people are controlled by inflicting pain, but in brave new world, they are controlled by inflicting pleasure. So in short, Orwell feared that what we hate will ruin us. Huxley feared that while we love will ruin us. And this book is about the possibility that Huxley not Orwell was right."
How You Can Connect With Mario:
Please Support this Podcast:
The Twenty First Century Imperative podcast is ad-free and relies entirely on user support. If you find it valuable, please consider supporting us by becoming a patron at our TFCI Patreon Page. And we now have a new TFCI Online-shop, with all the proceeds going to cover our production costs! And it has some great products for you! We have organic, fair-trade t-shirts and hoodies, as well as non-toxic BPA-free coffee containers, with great graphics! So, if you like the podcast, please think about helping us out by buying a t-shirt, hoodie or mug for you (and one for each of your friends!)