"You show people a big tree – it doesn't matter where they're from or what age – they're moved by how profound and beautiful it is." 
Eric Davies is one of the Canadian media's most sought-after experts when it comes to trees, urban forests, and ravine ecology, and I've now come to recognize Eric's voice on the radio because of many occasions my radio alarm has awakened me to Eric being interviewed by Matt Gallaway on CBC's Metro Morning! Whether it is the plight of indigenous trees in our ravines, or the propagation of resilient heritage trees to help mitigate climate change, Eric is the guy the media goes to for information and insight.
Eric is currently completing his PhD at the University of Toronto's Faculty of Forestry, and for the past 4 years, has been coordinating the  Toronto Ravine Revitalization Study, studying the ecology of the Don River Valley forest ecosystem, and mapping the exponential spread of invasive tree species, and their deleterious effects on ravine ecosystems.
Re-wilding North America's urban forests has always been Eric's is passion. With a deep understanding of nature, Eric has dedicated himself to forest health and ecosystem conservation for over 20 years – including establishing Ontario's first provincial park native tree nursery at Presqu'ile in 1996. In 2016 Eric won the Toronto Botanical Gardens Aster Awards – Rising Star Award.
In this podcast, I spoke with Eric about his thoughts on how forests can be an important part of how we will address the impacts of climate change;  and how he sees his role as someone on the front lines of environmental harm reduction, regeneration, and climate adaptation;  and what advice he would have for someone setting out to make a difference.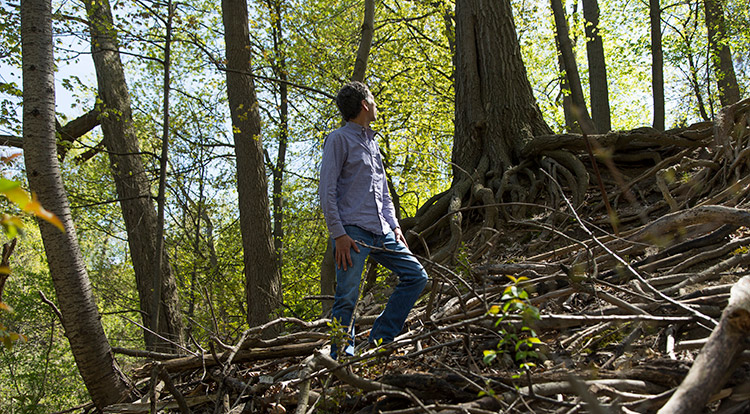 Advice Eric Had For Listeners:
"I think a lot of people have this idea that to make change, the only thing…is to encourage your government to sign the Paris Accord….We need to act more locally. Plant a heritage tree in your front yard. Learn about biodiversity. Teach others. Hopefully, it climbs back up the ladder to a global impact."
"Get into nature! Go find that tree. Join a nature club. Toronto has the Toronto Ornithology Club, the Toronto Mycology Association, mushrooms. And a lot of these places, up until quite recently, were having a difficulty getting membership. But there is a revival of nature, and so I think that would be something. I think it's an easy thing to do, and it's good for the person who's doing it, and if someone learns to love nature then they'll be more primed to help out the larger picture."
Key References:
Links to Media Related to Eric's Work:
Eric's Google Tree Map – which contains ~1000 old-growth trees in the Toronto ravines. Eric collected seeds from these trees to propagate them:
https://www.google.com/maps/d/u/0/viewer?mid=1ZBSX4pnl4WwCUKTSyLvF9koSdt0CApA6&ll=43.68500316175179%2C-79.36295203090583&z=14
Toronto Star: The Toronto Star article has now become a weekly column – Tree of the Week:
https://www.thestar.com/news/gta/trees.html
Toronto Star: Many of Toronto's trees are older than the city itself:
https://www.thestar.com/news/gta/2018/10/14/saving-torontos-mona-lisa-trees.html
Toronto Star: 10 of Toronto's most breathtaking trees — our ravine queens and urban legends:
https://www.thestar.com/news/gta/2018/10/14/10-of-torontos-most-breathtaking-trees-our-ravine-queens-and-urban-legends.html
Globe & Mail: One man's quest to restore native Canadian trees to Toronto:
https://www.theglobeandmail.com/canada/toronto/article-one-mans-quest-to-restore-native-canadian-trees-to-toronto/
Evergreen: Caring for the Valley Legends: The Mighty Oak:
https://donrivervalleypark.ca/news/caring-for-the-valley-legends-the-mighty-oak/?utm_source=drvp&utm_medium=email&utm_campaign=drvpnews+2018-11&utm_content=2018-11
The Guardian: 'There's no major city like it': Toronto's unique ravine system under threat:
https://www.theguardian.com/cities/2018/dec/21/theres-no-major-city-like-it-toronto-unique-ravine-system-under-threat
Toronto Star: How Toronto's ravines have become critically ill — and how they can be saved:
https://www.thestar.com/news/gta/2018/11/07/how-torontos-ravines-have-become-critically-ill-and-how-they-can-be-saved.html
CBC: Ecological collapse of Toronto's ravine system has begun, researcher says:
https://www.cbc.ca/news/canada/toronto/toronto-ravine-system-ecological-collapse-1.4891207
CBC: How much would an inventory of trees in Toronto's ravine system cost? City will find out
https://www.cbc.ca/news/canada/toronto/toronto-city-council-ravine-strategy-tree-inventory-1.4320431
CBC: Forest ecologist Eric Davies on Toronto's oldest trees
https://www.cbc.ca/news/canada/toronto/programs/metromorning/forest-ecologist-eric-davies-on-toronto-s-oldest-trees-1.4622837
Toronto Star: Studies say Toronto's ravines and inner harbour are in trouble
https://www.thestar.com/news/gta/2018/11/05/studies-say-torontos-ravines-and-inner-harbour-are-in-trouble.html
Please Support this Podcast:
The Twenty First Century Imperative podcast is ad-free and relies entirely on user support. If you find it valuable, please consider supporting us by becoming a patron at our TFCI Patreon Page. And we now have a new TFCI Online-shop, with all the proceeds going to cover our production costs! And it has some great products for you! We have organic, fair-trade t-shirts and hoodies, as well as non-toxic BPA-free coffee containers, with great graphics! So, if you like the podcast, please think about helping us out by buying a t-shirt, hoodie or mug for you (and one for each of your friends!)