"My advice would be look for small but tangible ways to get involved, different organizations, different community groups, even just having conversations with people who might have a different perspective and opinion than yours, but trying to find that common ground."
Brad Bradford
In this episode, I speak with Brad Bradford, an urban planner, active community volunteer, and recently elected Toronto City Councillor for Beaches-East York (New Ward 19).
I first met Brad in 2011 when he was the President of the Canadian Association of Planning Students, and I was speaking about Resilience in the face of Climate Change Impacts at the annual CAPS conference he had helped organize. I distinctly remember being very impressed by Brad when I first met him, especially by his keen awareness of the planning issues associated with Climate Change, as well as complex realities of trying to address these issues.
Brad is an urban planner and community activist, with specialty expertise in sustainable and district energy planning; a passionate cyclist and competitive bike racer; and he is now entering the world of politics by running for Toronto City Council. Until leaving the City of Toronto to run for City Council, Brad was responsible for Stakeholder Engagement and Special Projects in the Office of the Chief Planner at the City of Toronto where he spent his time working with government, the private sector, non-profits, and community groups to broaden discussions around the kind of city we want to be. Brad is passionate about in the interconnected issues of inclusivity, affordability, transit and the environment.
Through his role at the City, and now City Councillor, Brad is working to diversify voices in decision-making and bring more people to the table to discuss city-building issues. In 2016 Brad won the Canadian Institute of Planners President's Award for his work on the FutureFORWARD Task Force. And as an avid cyclist, Brad launched the Toronto Hustle project in 2017 to develop the next generation of Canadian athletes, while providing a platform for active transportation advocacy across North America.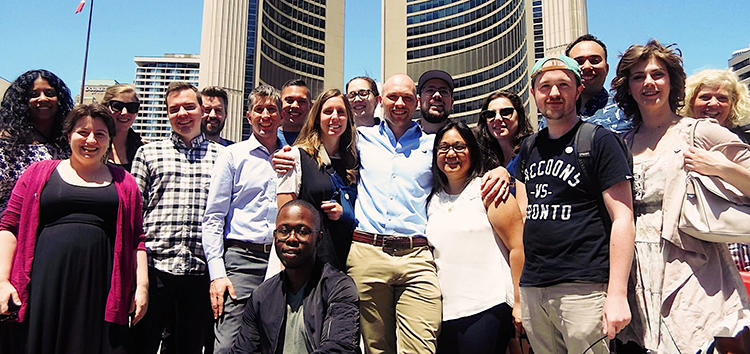 On The Most Important Things We Can Do to Address Climate Change:
"I think the very nature of living in a city is one of the most impactful and profound things that we can do to address climate change. And that gets back to the ability to use public transportation… The more urban form we can make, as Canadians in particular, is so valuable and makes such a difference. It opens up so many opportunities for mass transit, active transportation, the congregations of jobs and economies, education, and institutions. Really we're talking about complete communities, we need to build more complete communities. And when you have all of those things that are important to your life, job, education, healthcare, amenities, childcare, groceries, when all of that's within walking distance, now we can have a conversation about really reducing our carbon impact. If you have to get in a car and drive for 20 minutes or half an hour or an hour to get to where you need to go, that's a problem and that's not going to move us further forward in reducing climate change, it just exacerbates the problem."
Brad's Thoughts On Listening:
"I think politicians should do less talking and more listening. I think people generally … people are a lot smarter than politicians give them credit for. And you could show up to the door and have a conversation with someone, and they know their neighborhood, they know their community, they know where their pain points are. And you just have to listen to them and they will give you all the feedback that you need. So, I've learned a lot from my neighbors and just going to the door and having those honest conversations has been very insightful. And I think that as a civil society, as a local government, and as a city, would be further ahead if we spent less time kind of yelling at each other, talking down to each other, and more time listening."
Advice Brad Gave to Listeners:
"I think all of these conversations can be kind of weighty and heavy, and you sort of sit back and say, "Man, we're screwed." It's easy to feel that way, but it's not overly helpful. My advice would be look for small but tangible ways to get involved, different organizations, different community groups, even just having conversations with people who might have a different perspective and opinion than yours, but trying to find that common ground. And when we have a common ground, I think we're always in a better position to move forward on change and to make a difference. So don't be disheartened, don't be discouraged. Just focus on looking ahead, looking to the future and how we can all make it better."
Learn More About Brad's Campaign of City Councillor: 
Brad Bradford for the Beaches – East York (Ward 19)
Suggested Reading from Brad:
Axelrod, David. Believer: My Forty Years in Politics. Penguin Putnam Inc, 2016.
How to Get in Touch with Brad:
Twitter: @BradMBradford
Instagram: @bradfordgrams
LinkedIn: https://www.linkedin.com/in/brad-bradford-toronto/
Facebook: www.facebook.com/BradMBradford