"We need to say enough is enough in the way in which we plan and imagine, design our cities. We need to stop talking about diversity and actually make it happen."
"We need to say enough is enough in the way in which we plan and imagine, design our cities. We need to stop talking about diversity and actually make it happen."
In this episode, I had the pleasure of interviewing Pamela Robinson. Pamela is the Associate Dean of Graduate Studies and Strategic Initiatives for the Faculty of Community Services at Ryerson University, an Associate Professor for the School of Urban and Regional Planning at Ryerson, and a registered professional planner. Her areas of expertise include urban sustainability, environmental design and planning, urban governance, and public engagement.
Pamela is also a member of the geothink.ca research team — her research and practice focus on urban sustainability issues with a focus on cities, climate change, and the use of open data and civic technology to support open government transformations.
In addition to her research, Pamela serves on the board of directors of the Metcalf Foundation, has participated in four Metrolinx Community Advisory Committees, is a columnist for Spacing Magazine, and is the editor of two books:  Urban Sustainability: Reconnecting Space and Place, and Teaching as Scholarship: Preparing Students for Professional Practice in Community Services.
I have admired Pamela's work in the urban sustainability space for a number of years, so it was a real pleasure to have the opportunity to talk with her about urban planning and the challenges of the Twenty First Century Imperative.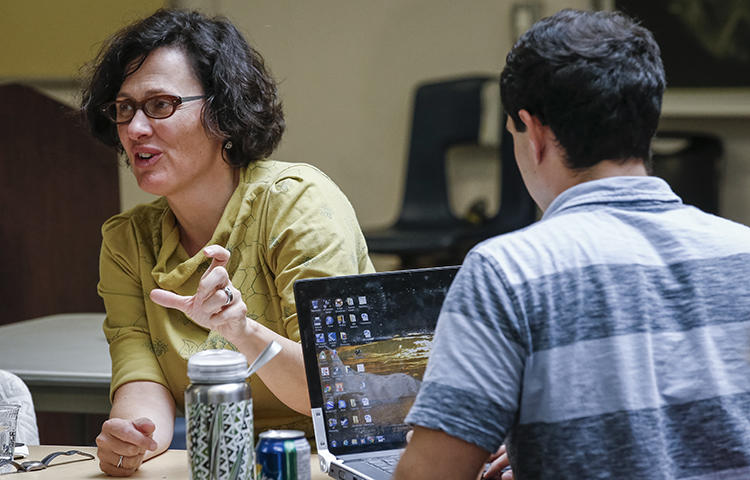 Some Advice Pamela Gave Listeners
I think that one of the ways we collectively build the social licence for the kinds of innovative and progressive government leadership that we want, is we ask ourselves hard questions about when we react badly to things that don't go well. So, part of it is, we need to check our reactions, and so we need to step up when people are trying innovative things and stand behind them.
I would say that part of this notion of the collective is just being active and exploring and trying new things. And I know people's lives are busy and lots of people are so overworked and just trying to do so many things to just keep the basic things moving along, but being open to new experiences in the city that you live in. Whether it's visiting a new part of the city or meeting new people, but just trying to really be active about being part of the learning process. About who are we as a city, because we're changing so quickly and it's a persistent process of change. I think that the more we all try to keep up with really appreciating who we are, the better the hope is I think. And I think that the people need to be deliberate about the decisions that they make.
That notion of how do you hustle hard on behalf of the public good is one that we all need to take seriously. When you spend $1 how does it have five dollars worth of impact? If you value the mom-and-pop grocery store up the street, go spend your money there. You want to use whatever money you have to the highest, best use as possible. Those kinds of decisions really matter, I think, in a city like ours.
Books Discussed in this Podcast
Heffernan, Margaret. Willful Blindness: Why We Ignore the Obvious at Our Peril. Bloomsbury, 2012.
Johnson, Steven. Future Perfect. Penguin Books Ltd., 2013.
Kingsolver, Barbara, et al. Animal, Vegetable, Miracle: a Year of Food Life. Harper Perennial, 2017.
Saunders, Doug. Maximum Canada: Why 35 Million Canadians Are Not Enough. Alfred A. Knopf Canada, 2017.
Throgmorton, James A. Planning as Persuasive Storytelling. Univ. of Chicago Press, 1996.
Please Support this Podcast:
The Twenty First Century Imperative podcast is ad-free and relies entirely on user support. If you find it valuable, please consider supporting us by becoming a patron at our TFCI Patreon Page. And we now have a new TFCI Online-shop, with all the proceeds going to cover our production costs! And it has some great products for you! We have organic, fair-trade t-shirts and hoodies, as well as non-toxic BPA-free coffee containers, with great graphics! So, if you like the podcast, please think about helping us out by buying a t-shirt, hoodie or mug for you (and one for each of your friends!)