"Find something you're passionate about and then the change starts to create itself."
In this episode, I have had the pleasure of speaking with Mike Williams—a professional engineer who has spent his career specializing in sustainable design, carbon reduction, and developing energy efficiency strategies.
Mike has been a key contributor to some of Canada's greenest buildings, including the CANMET Materials and Testing Laboratory in Hamilton, and the Elementary Teachers' Federation Headquarters in Toronto, both of which earned LEED Platinum certification and set new standards for sustainability in their communities. Mike is now developing Energy Compass, a big data tool that endeavors to create streamlined energy benchmarking and reporting for new construction projects at the design stage at an industry-wide scale.
I've known Mike Williams for many years, and recently I have had the pleasure of collaborating with Mike on developing a Low-Carbon Roadmap for assisting our higher education clients to set and meet low carbon emission goals for their campuses. In addition to being one of the most highly regarded sustainability engineers in Canada, Mike is a lot of fun to work with! He is an innovative thinker and is great at bridging the divide between the big concept and the nitty gritty of implementation.
Mike received his Bachelor of Civil Engineering from The University of Western University Ontario in 2004 before heading over to Europe to pursue a Master of Science in Ecotechnology and Sustainable Development at the Mid Sweden University. After completing his formal education in 2006, Mike worked as a project manager at Green Building Service Inc., was a founding principal at eco3, a director at CDML Commissioning Services, before joining RWDI to now lead their Toronto office as the Principal responsible for sustainable engineering. In addition to his professional responsibilities, Mike is a Board Member of Sustainable Buildings Canada, and has served as a committee member of the Canadian Green Building Council's Site and Water committee.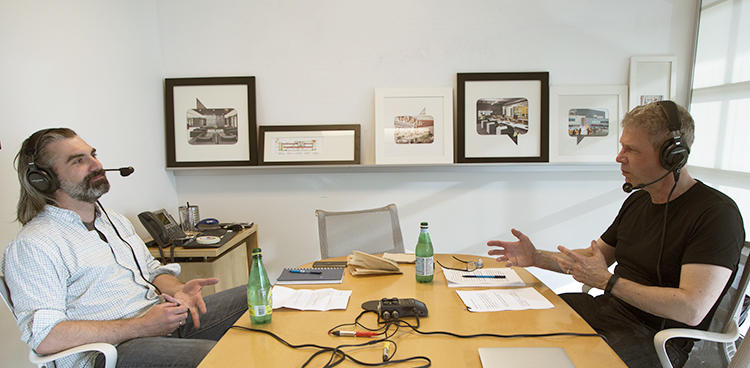 Some Advice Mike Gave Listeners
If you're younger, look and find something you're passionate about, and then the change starts to create itself. I'm lucky that I stumbled across this idea of sustainability and I think in part is a result of my upbringing, this interest in buildings and these things married together and now I've got a career where I'm doing something I'm passionate about and almost as a co-benefit it has the potential to have a really big positive impact on the planet and that's great. I think it's really my passion for the subject matter that drives me forward to try to make change. So, I think it's about really trying to find that passion.
Suggested Reading from Mike
Akkad, Omar El. American War. Emblem Editions, 2018.
Collins, James C. Good to Great. Harper Business, 2001.
Crichton, Michael. Travels. Vintage Books, 2014.
Levitt, Steven D., and Stephen J. Dubner. Freakonomics. Penguin, 2015.
Lewis, Michael. The Undoing Project. Penguin Books Ltd., 2017.
What Mike Would Put in the Sunday Edition of The New York Times
Compass endeavors to create a streamlined energy benchmarking and reporting tool for new construction projects at the design stage. By providing market-wide benchmarking analytics, this tool will enhance the quality of modelled energy performance, improve the energy literacy of the design community, improve conservation program delivery, and ultimately reduce energy use and greenhouse gas emissions from every proposed building development in Ontario.
How to Get in Touch with Mike
LinkedIn: https://www.linkedin.com/in/eco3mikewilliams/
Please Support this Podcast:
The Twenty First Century Imperative podcast is ad-free and relies entirely on user support. If you find it valuable, please consider supporting us by becoming a patron at our TFCI Patreon Page. And we now have a new TFCI Online-shop, with all the proceeds going to cover our production costs! And it has some great products for you! We have organic, fair-trade t-shirts and hoodies, as well as non-toxic BPA-free coffee containers, with great graphics! So, if you like the podcast, please think about helping us out by buying a t-shirt, hoodie or mug for you (and one for each of your friends!)