"And this was a really big awakening moment for me, realising that the majority of fossil fuel industry workers actually really wanted to build a better future with their skills, and above and beyond that, they were actually way more informed about these issues then the average Canadian."
In this episode, I talked with Lliam about his inspiration and reasons for founding Iron+Earth; the huge opportunities to transform the dying fossil fuel industry workforce into a renewable energy workforce; the opportunities and challenges for policy to drive large-scale social change; and about the "Prosperous Transition Plan" that Iron+Earth is now rolling out, that, if implemented, could transform Canada's workforce, businesses, infrastructure, and environment to meet the demands of a future net-zero economy.
We also talked about what gives Lliam hope and keeps him going when things look dark, and the advice he would offer listeners about what they can do to be part of making a difference in meeting the challenges of the Twenty First Century Imperative.
Background
Lliam is the founder, and now Executive Director, of Iron+Earth, a not-for-profit NGO led by Alberta oilsands workers committed to both re-training oil industry workers for new jobs in the rapidly emerging renewable energy industry, and to engaging in, and advocating for, renewable energy development to create an energy future they can proud of.
Lliam led the creation of this organization during the spring of 2015 when oil prices started to fall. Oil sands workers were losing their jobs, and the need to diversify Alberta's energy grid was on everyone's mind. As Lliam notes, "We founded Iron+Earth as a platform to engage in renewable energy development issues, and to empower us to advocate for an energy future we could be proud of creating." Since its inception, membership has grown to include workers from a variety of industrial trades, including boilermakers, electricians, pipe fitters, ironworkers, and labourers.
Lliam's leadership of Iron+Earth is built on a solid foundation. After training as a metal worker and welder, and then getting a BA in Geography at Comosun College, and a Masters in Interdisciplinary Studies at Royal Roads University, Lliam started his boilermaker career in Victoria building pressure vessels for the oil sands, as well as infrastructure for renewable energy projects. He realized that his trade skills could be used to build renewable energy infrastructure, and this ultimately led to the idea of founding of Iron+Earth. Over the past five years Lliam has worked at a number of different oil sands projects –  and this experience is what grounds his leadership at Iron+Earth – a dedication to his fellow workers, and a commitment to creating a better planet for future generations.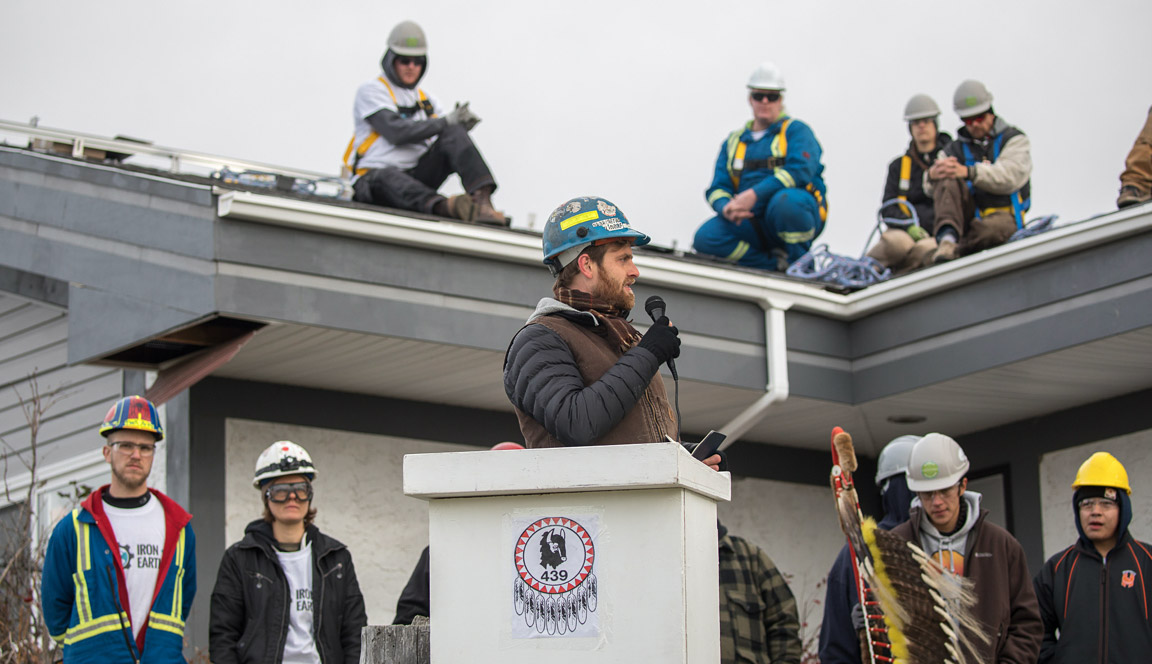 Lliam Hildebrand speaking at a press conference during the launch of Iron & Earth's solar training program, in partnership with the Louis Bull Tribe. Photo by Joan Sullivan.
What Lliam Thinks Are The Biggest Challenges In Coming To Grips with Climate Change
I think one of the big challenges comes from it being incredibly difficult to imagine ourselves in a future that hasn't really been articulated very clearly yet. And there are so many different pathways that our planet, and our society might take. But one nice rallying point is this net-zero by 2050 target.
And I think there's actually a lot more commonality between the different scenarios than people realize. And there is a certain amount of certainty in regard to the fact that every person in our existing society is going to be required to build this future. And so, I think we really need to help people imagine themselves actually being welders in 20 years from now. It's just that you might be welding something different. You might be welding a hydrogen pipeline instead of an oil and gas pipeline.
Lliam Talks About The Prosperous Transition Plan that Iron+Earth Is Now Rolling Out
We're very excited about the Prosperous Transition Plan… We have built out this plan as a blueprint to mobilize fossil fuel industry and indigenous workers to build a net-zero society by 2050. And it calls for four broad reaching national initiatives that could help to upgrade four core aspects of our economy. We look at those four aspects as our workforce, our businesses, our infrastructure, and our environment.
In terms of the workforce, we're calling for a national upskilling initiative that could help rapidly up-skill fossil fuel industry and indigenous workers for careers in this net-zero economy. So that's things like what we're already doing. Delivering five-days solar-training programmes for electricians. They might have spent their whole career doing electrical work at a refinery. They can take a five day programme and spend the rest of their careers in solar if they want or spend part of their time working on refineries still. And part of their time working on solar projects, which is probably a more likely scenario in the shorter term.
Important Lessons Learned About How To Increase Awareness of Climate Change And How To Limit and Adapt to It
Well, one of the biggest things that I would say very simply: It's about communication! Being clear in what were we moving towards, what the ultimate goal is. …If we are creating a new system, or making a transition, then what are we moving towards? And, I think that this is important. No matter who you are, you need to know that we're moving towards a system where we will be able to flourish, where we will have lifestyles that we are happy to live, where we know that we will be prosperous. And I think that that's one of the biggest things that I've learned in the work that I'm doing that because these are major challenges.
Climate change is a huge challenge. It is an existential crisis. But at the same time, if we frame it only as a doom and gloom situation, then I don't think we're going to get people on board and make those changes. So, communicating in a way that helps people realize that they should do their part, but also on a much larger level of how the governments have a role to play in this in contributing to making those transitions. I don't think there's a silver bullet solution, but actually just consolidating all this information that we have, because I think we've gotten really good with the science. Now it's the action that has to happen.
What Gives Lliam Hope About The Future:
I think it's our constituency for the most part of the workers that reach out saying, "Hey, I've worked my whole career in sort of Northern Alberta working on the pipelines, working on the rigs. I know that it's time for me to transition, and I want to be part of building a sustainable planet. How can I get involved and how can I reposition myself to accomplish that?" So, I think that's what really gives me hope. And along with that is a lot of these new projects, like Project Draw Down that actually lay it out and show mathematically that it is more than possible for us to address this issue of climate change. It's just that we need to move ambitiously on it.
Advice Lliam Had for Listeners About Making a Difference:
Part of me wants to say, "oh, do what I did. Like if you realise that you want to change careers, just go and do it, take the leap of faith." But that was a pretty messy pathway for me. I was pretty young at the time. Maybe I could have done a little bit more planning. But I would say, look at all of the different climate solutions out there. Look at Project Draw Down. Look at all of the different opportunities. Look at all the different inflexion points and think, okay, what skills do I have that could potentially be relevant in these areas? Which of these excites me the most? And maybe just pick up the phone, start calling people in the industry, see what their pathway looked like, and if all else fails, quit your job and just leap forward and make it happen.
What Lliam Asked of Listeners:
I would like to ask you: How could your company, or your skillset, contribute to creating a prosperous feature? I think maybe a lot of people assume that their company is irrelevant in this transition, or maybe think that since they work for an oil and gas company, their company couldn't help leading this transition, but ask yourself, is it possible that maybe my company could provide some value to this movement?
Links Referred to by Lliam:
The Prosperous Transition Plan:

Fossil Fuel Workers Calling For A Green Recovery. This plan offers a blueprint to mobilize fossil fuel industry and Indigenous workers to support a prosperous transition to net-zero emissions by 2050, catalyzed by a green recovery from the COVID-19 pandemic.

Project Drawdown Website:

Project Drawdown's mission is to help the world reach "Drawdown"— the point in the future when levels of greenhouse gases in the atmosphere stop climbing and start to steadily decline, thereby stopping catastrophic climate change — as quickly, safely, and equitably as possible.

Donut Economics: Humanity's 21st century challenge is to meet the needs of all within the means of the planet to ensure that no one falls short on life's essentials (from food and housing to healthcare and political voice), while ensuring that collectively we do not overshoot our pressure on Earth's life-supporting systems, on which we fundamentally depend – such as a stable climate, fertile soils, and a protective ozone layer. The Doughnut of social and planetary boundaries is a playfully serious approach to framing that challenge, and it acts as a compass for human progress this century.
Fermi Paradox: The Fermi paradox, named after Italian American physicist Enrico Fermi, is the apparent contradiction between the lack of evidence for extraterrestrial civilizations and various high estimates for their probability.
Lliam's Book Recommendations:
Project Drawdown

edited by Paul Hawken. In the spring of 2017, Project Drawdown released its inaugural body of work on climate solutions with the publication of the New York Times bestselling book Drawdown.

The Seven Habits of Highly Effective People

by Stephen R. Covey. Stephen Covey was an internationally respected leadership authority, family expert, teacher, organizational consultant, and author. and The 7 Habits of Highly Effective People was named the #1 Most Influential Business Book of the 20th Century.

Radical Candor: Be a Kickass Boss Without Losing Your Humanity by Kim Malone Scott. Radical candor is the sweet spot between managers who are obnoxiously aggressive on one side and ruinously empathetic on the other. It's about providing guidance, which involves a mix of praise as well as criticism—delivered to produce better results and help employees achieve (Source: from Goodreads.
How You Can Connect With Lliam:
Please Support this Podcast:
The Twenty First Century Imperative podcast is ad-free and relies entirely on user support. If you find it valuable, please consider supporting us by becoming a patron at our TFCI Patreon Page. And we now have a new TFCI Online-shop, with all the proceeds going to cover our production costs! And it has some great products for you! We have organic, fair-trade t-shirts and hoodies, as well as non-toxic BPA-free coffee containers, with great graphics! So, if you like the podcast, please think about helping us out by buying a t-shirt, hoodie or mug for you (and one for each of your friends!)