"As the saying goes, you can either light a candle or curse the darkness, take your pick. Lighting candles has always held a lot more appeal to me."
Since starting the podcast, we've received many comments from listeners suggesting that we do an episode that introduces the Twenty First Century Imperative, provides some context about the purpose of this series, and gives some background about myself, your host, Craig Applegath. And so, in this episode, we've turned the tables, so to speak. Rather than me sitting down with another expert in the field, I sat down with my assistant producer Erin Masters, so she could interview me. Throughout this episode you will hear a bit of my personal history, what motivated to start to the project, and my take on some of the key questions I pose to my guests every month.
I hope you enjoy listening to my interview as much as I enjoyed doing it.
About Craig Applegath
Craig is an architect, urban designer, and pioneer in the planning and design of zero carbon buildings and campuses, urban resilience, and symbiotic regeneration cities. He's also a founding principle of Dialog's Toronto studio and, of course, the host of the 21st Century Imperative Podcast.
Craig first trained as a biologist and then as an architect and urban designer, so it's not surprising that he is so passionate about finding planning and design solutions that make sense in a world challenged by climate change and environmental deterioration. Since graduating from the Graduate School of Design at Harvard with a Masters of Architecture and Urban Design, Craig has focused on designing and leading complex sustainable planning and design projects that make a difference. He is internationally recognised for his design and advocacy of zero carbon buildings and regenerative symbiotic cities. Craig speaks about his research and design explorations at conferences and workshops around the world, was a founding board member of Sustainable Buildings Canada, and is a past president of the Ontario Association of Architects.
Craig was made a fellow of the Royal Architectural Institute of Canada for his services to the profession of architecture and an honorary member of the Ontario Association of Landscape Architects for his contribution to the profession of landscape architecture.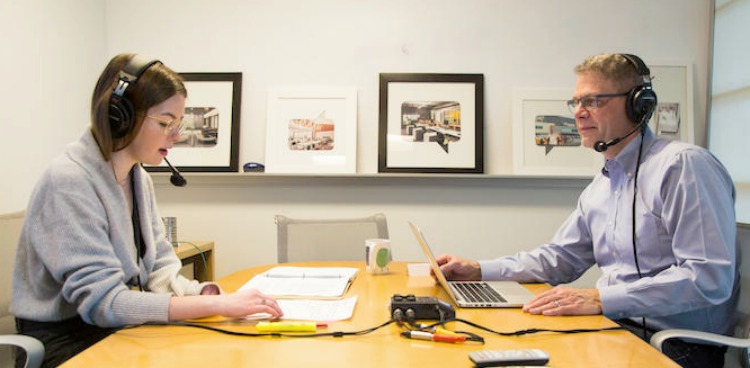 Some Advice Craig Gave Listeners
I'd like to ask our listeners to consider the following three things:  First of all, if they have not already read HEAT by George Monbiot they should put it on the top of their must-read books. Second, after they listen to any of these podcasts, ask themselves what they might be able to do to make a difference in meeting the challenge of the Twenty First Century Imperative, whether in their personal or professional lives. As Ryan Meyers points out in my interview with him (I think that's podcast episode 003) "Climate change is a beast that will have to be killed by a thousand cuts, so everyone has to do their part to help". And third, don't give up. We're facing some pretty big challenges in the next couple of decades, so we will need all hands on deck. One of the reasons I am producing these podcasts is to provide people with both ideas and a sense that there are things we can do to make a positive difference. 
Suggested Reading from Craig
Heffernan, Margaret. Willful Blindness: Why We Ignore the Obvious at Our Peril. Walker & Co., 2012.
Johnson, Steven. Ghost Map: the Story of London's Most Terrifying Epidemic– and How It Changed Science, Cities, and the Modern World. Penguin Group, 2006.
Monbiot, George. Heat: How to Stop the Planet from Burning. South End Press, 2009.
Randers, Jørgen. 2052: a Global Forecast for the next Forty Years. Chelsea Green Pub., 2012.
Saunders, Doug. Maximum Canada: How a Big Country Became Too Small, and What We Can Do about It. Vintage Canada, 2018.
People Referenced in this Episode
Project Information
Regional Municipality of York's Bill Fisch Forest Stewardship and Education Centre, York Region, Whitchurch-Stouffville, Ontario:
How to Get in Touch with Craig
Please Support this Podcast:
The Twenty First Century Imperative podcast is ad-free and relies entirely on user support. If you find it valuable, please consider supporting us by becoming a patron at our TFCI Patreon Page. And we now have a new TFCI Online-shop, with all the proceeds going to cover our production costs! And it has some great products for you! We have organic, fair-trade t-shirts and hoodies, as well as non-toxic BPA-free coffee containers, with great graphics! So, if you like the podcast, please think about helping us out by buying a t-shirt, hoodie or mug for you (and one for each of your friends!)